18-WHEELER ACCIDENT LAWYER IN MONROE, LOUISIANA
If you or a loved one has been injured in an 18-wheeler truck accident in Monroe, Louisiana, Bruscato Law can help make things right.
Our law practice has a proven record of successful settlements for clients. We have the experience and resources to fight trucking companies to win cases for victims just like you. As a personal injury lawyer, I am dedicated to helping victims of all types of truck accidents, including 18 wheeler commercial vehicles, semi-trucks, big rigs, busses, tractor trailers, and more.
Despite driver conscientiousness and strict safety enforcement in the commercial trucking industry, 18-wheeler accidents are on the rise.
If you or your loved one has been injured or killed in a truck collision as a result of negligence with an 18-wheeler, call Bruscato Law today for a free consultation. We're here to review your case, free of charge, and we do not get paid until we win.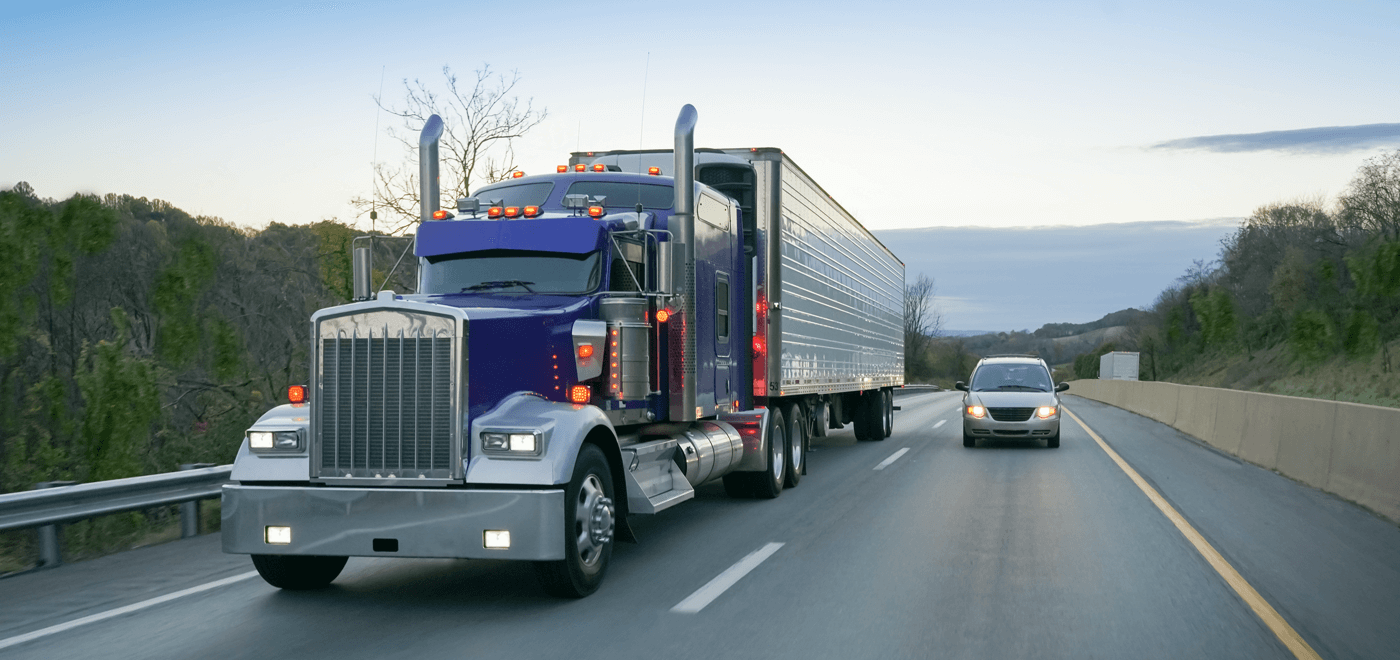 6 Common Causes of 18-Wheeler Accidents
If you've been injured in an accident, know that you are not alone. There are millions of drivers on American highways today and it is a travesty that these bad accidents are as common as they are. However, if you're reading this, you've already begun to taken action to get the compensation you deserve for your pain and suffering.
One of our priorities as legal professionals is to investigate the cause of your accident. As truck accident lawyers, we must establish which factors caused your crash.
18-wheeler accidents occur for many reasons, including:
Mechanical defects — Issues with tires, wheels, and brakes are among the most common causes of accidents. Suppose any of this equipment flawed or defective. In that case, the driver is required to report equipment failure to the motor carrier or trucking company immediately, but this is not always the case.

Vehicle weight — Large commercial trucks carry much more weight than passenger vehicles (sometimes surpassing 400 tons), but they still have their limits. Trucks take much longer to come to a complete stop, making them more prone to collisions. Additionally, their massive weight makes serious injury much more likely during collisions.

Driver fatigue — Truckers have restrictions on how much time they can spend on the road. However, fatigue and falling asleep at the wheel are among the most prevalent causes of truck accidents.

Distracted driving — Cell phone use, "highway hypnosis," and other distractions can make the truck driver less engaged and attentive, impairing reaction time and ability.

Reckless driving — Commercial drivers can be motivated by profits and tight deadlines at the expense of road safety. Additionally, drivers may be inadequately trained or licensed to handle large commercial vehicles safely.

Driving under the influence — Use of drugs or alcohol is a relatively common cause of accidents.
Understand, the very nature of large commercial trucks can increase the likelihood of an accident and injuries to motorists. Trucks are difficult to maneuver. There are troublesome blind spots to negotiate, and they cannot stop rapidly in case of emergency.
Besides, commercial truck drivers are notorious for spending long hours on the road, fighting to stay awake, alert, and engaged in safe driving practices.
18-wheeler accidents are increasingly common on the road, and when they happen, the injuries that result can be devastating — even fatal.
What Should You Do After an 18-Wheeler Accident?
Suppose you've been in a vehicle accident or suffered from a truck accident injury. If that's the case, there are a few crucial steps to take.
Your first step is to seek medical attention if the accident was severe. Second, you want to do everything in your power to prove that the trucker was at fault and not you.
Here's what we recommend you do after an accident:
Call for help — Call 911 immediately and do not leave the scene.

Seek medical attention — Even if you're not showing obvious injury symptoms, don't attempt to "walk it off." Go to the emergency room for medical treatment as soon as you're free to leave the scene of the accident. Even if there are no visible wounds, symptoms of internal injuries (such as brain injury) may not arise immediately. Plus, you will need a formal medical report for proof of injury when you decide to file an injury lawsuit against the trucking company.

Take photos of the accident — If you can, and it's safe to do so, document the 18-wheeler crash with pictures and video. Capture the entire scene from different angles, include the property damage done to your vehicle and the truck, road conditions, and any visible injuries sustained to you and your passengers.

Collect witness contact information – Eye witness testimonials can be used as evidence to help prove your assessment of the facts and prove you were not at fault.

Keep the details to yourself — Refrain from sharing the details of your truck crash with third parties. And do your best not to make comments that could indicate that you were to blame for the accident. As a matter of liability, be careful what you say because these comments can be used against you by the truck driver or trucking company.
Once you're free to leave the scene of the accident, and you've tended to your injuries, it's time to seek legal representation. Legal cases involving 18 wheeler accidents are complicated. You need an experienced truck accident attorney in your corner to walk you through the process and fight for your rights.
If you're a truck accident victim and this is the first time you've been in a car crash, you may have many questions and concerns during this process. Just as your medical professional has your best interest in mind, so does your lawyer.
Reach out to our experienced legal team at Bruscato Law for your free consultation. An 18-wheeler accident attorney will help guide you through the process properly and claim the maximum compensation you are due
Why You Need an Attorney in An 18 Wheeler Accident Case
18-wheeler truck accident cases tend to be much more complicated when investigating liability. A personal injury lawyer's job is to identify the party (or parties) responsible for your accident, which caused severe physical or emotional injuries and fight for fair compensation.
If an 18-wheeler has injured you or someone you know, then there are many reasons why you'll want to speak with an attorney instead of trying to handle the situation yourself.
Trucking companies fight back
Trucking companies are equipped with teams of attorneys determined to limit the amount of compensation they owe when trucking accidents occur. You owe it to yourself to find legal representation to help fight for your accident's right for fair compensation.
18-wheeler cases are complicated
Proving liability in 18-wheeler accident cases is notoriously difficult. Yet, for you to win, you must prove one or more parties liable for the accident. Truck drivers and truck companies are often reluctant to admit liability, which makes this a complicated task.
If a truck accident lawsuit is raised, the following may be named as defendants in your case:
Truck drivers — Liability may fall on the motor vehicle operators themselves if they fail to adhere to Louisiana traffic laws. Drivers may also be liable if they made errors while driving that caused the crash.

Another driver — Reckless or inexperienced drivers can cause a truck driver to lose control and result in a crash. For example: driving in blind spots, breaking traffic regulations, or cutting off 18 wheelers are all ways another driver can instigate an accident.

The Trucking Company — Sometimes, the trucking company will be held responsible even if the truck driver was at fault. Companies are responsible for managing their vehicles' maintenance and safety and training their drivers to follow standard trucking industry regulations. When these obligations are not met, trucking companies can assume the liability.

The Truck Manufacturer — If a defective vehicle or part caused the crash, the truck manufacturing companies might be partially or fully responsible for a truck accident. Tires, brakes, and wheels are among the most common defects that result in accidents.
With so many complex laws surrounding the commercial trucking industry, it can be tough to build a case against larger corporations or insurance companies.
After identifying who is responsible for the accident, our truck accident lawyers will negotiate on your behalf. We'll confront the trucker or trucking company's insurance company to reach an agreement that compensates you fairly for your injuries and losses from the truck accident.
While the defense may try to deny responsibility, rest assured we will do everything to fight for your case and reach a ruling in your favor.
What Compensation is Available to 18 Wheeler Accident Victims?
All commercial truck drivers and service trucking companies are required by federal law to carry more insurance than regular cars and trucks. However, insurance companies are interested in saving as much money as possible (and spending as little as required).
In many cases, the insurance company won't even provide enough to cover medical bills associated with your severe injuries.
Having an experienced 18-wheeler accident lawyer can help you receive the compensation you need and deserve for your injury claim. If we find fault in another party involved in your crash, rest assured we will build a strong case to get you the financial compensation you need for the damages done.
Just remember, the statute of limitations on personal injury and wrongful death claims in the state of Louisiana is only one year, so please take legal action as soon as possible.
Talk to An 18-Wheeler Accident Lawyer Today to Begin Your FREE Case Evaluation
Bruscato Law has successfully represented 18 wheeler and semi-truck accident victim clients for years. We pride ourselves on providing knowledgeable, straightforward, and accessible legal counsel to victims when they need it most. Don't leave the outcome of your case to chance. Let John Bruscato fight for you so you can stay focused on your recovery.
Contact us today for a free case review in Monroe, Louisiana — Remember, we offer a free consultation for new 18-wheeler accident claims. Contact our law office today by filling out an appointment form or by calling our toll-free phone number at 318-855-1613 — don't wait!
18-WHEELER ACCIDENT LAWYER IN MONROE, LOUISIANA
If you have suffered loss or injuries from an accident with an 18-wheeler, seek the assistance of an experienced personal injury lawyer as soon as possible. Monroe-based attorney John Bruscato can help to put your mind at ease that your legal matters are in good hands. With a passion for protecting the injured, he will fiercely fight for your rights.