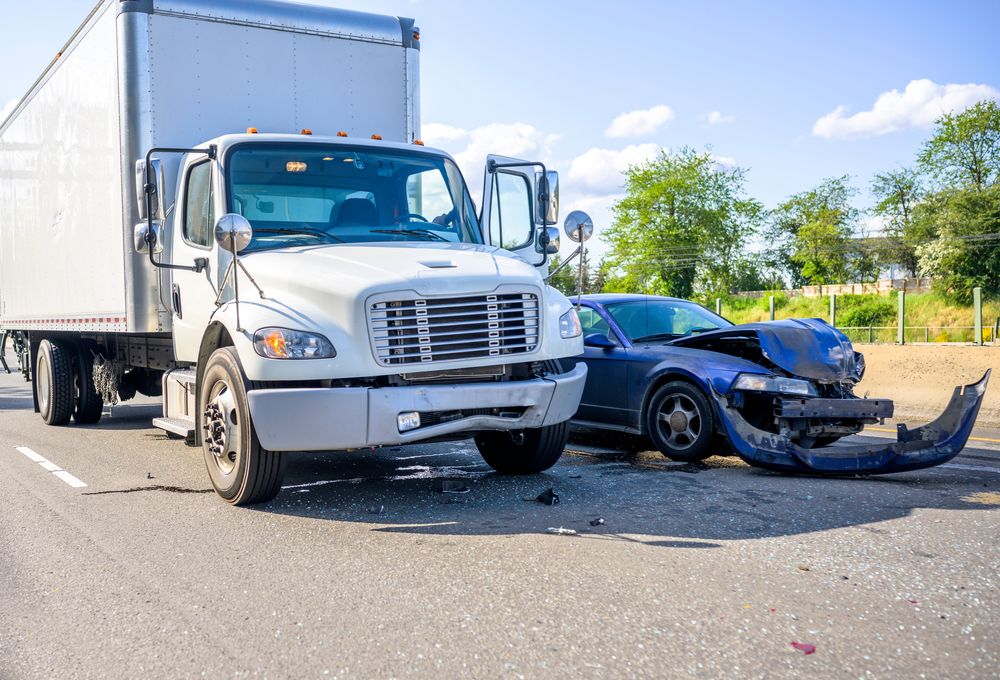 What to Do if You're in a Wreck with a Commercial Vehicle
---
Getting into any sort of accident can be pretty scary, but that's especially true when it involves a vehicle like an 18-wheeler, semi-truck, dump truck, bus, or work truck. If that happens, a commercial vehicle accident lawyer like Bruscato Law can advise if you should file a lawsuit and discuss commercial vehicle settlement information for Louisiana residents.
Motor vehicle accidents involving large trucks cause thousands of injuries and deaths each year. In 2020, there were 13.49 fatal crashes for every 1 million people in the U.S., according to Federal Motor Carrier Administration data.
In 2021, 5,788 people died in traffic crashes involving large trucks – a 17% increase from 2020, according to NHTSA's 2021 Summary of Motor Vehicle Crashes report. That same year, 71% (109,981) of people injured in large-truck crashes were occupants of other vehicles.
If you do get into a commercial vehicle crash, it's hard to think clearly — especially if there's a catastrophic outcome. To protect yourself, here's a list of things you should do immediately following the wreck.
What to Do Immediately Following a Commercial Vehicle Accident
Before you do anything, please note that you should perform each of these steps only if you are physically able to do so. Never compromise your well-being if you are seriously injured. If you're unable, ask someone who can do them instead.
Take Shelter in a Safe Place
Maintaining physical safety for yourself and all vehicle occupants is of utmost importance. You and any fellow passengers should survey your surroundings and take shelter in a safe place away from moving vehicles.
In a freeway accident, never attempt to move or dodge oncoming traffic. Exit the vehicle on the passenger side and ensure emergency personnel can reach you. On busy city streets, move to a sidewalk or parking lot away from traffic and wait for help.
Evaluate Your Injuries
Once you and any passengers are in a secure location, evaluate yourself for injuries. Do you see cuts or bruises? Can you move without pain, or do you have a potential sprain or broken bones?
After you've assessed your own physical status:
Check with your fellow passengers, the commercial vehicle driver, and any other accident victims.

Call 911 immediately to report any injuries, especially if they are severe.

Follow the emergency dispatcher's instructions until emergency crews arrive.

Call 911 and contact family members.
When you contact 911, give the dispatcher your name, location, and injury details for yourself and any other parties involved.
Also, tell them a commercial vehicle is involved. This information is critical if there are any chemical spills or other environmental hazards for anyone in the wreck and the surrounding area.
In this case, follow the dispatcher's instructions to maintain safety until fire crews, hazard teams, or emergency medical personnel reach the scene.
When it's safe, contact your family members or loved ones about the accident. Tell them where you are, if you have any injuries, and whether they are transporting you to the nearest emergency room. That way, they can meet you at the hospital.
Keep the Accident Scene Intact
It's critical to leave the accident scene intact. Don't move your vehicle unless emergency crews request it. Turn on your hazards to alert moving vehicles around you.
Also, don't remove any broken or loose car parts, including shattered glass. The scene must remain exactly as it is for police to determine the cause of the accident.
If you can, take photos, videos, and notes to capture interior and exterior vehicle damage like dents, scratches, and broken or severed car parts.
Gather Information for All Involved Parties
Gather and exchange information from all drivers, passengers, and any other parties involved in the accident. This includes:
Name and address

Phone number

Other driver's insurance policy number and insurance company contact information

Give your contact details and insurance information to the other driver

Note the commercial vehicle's company name, license plate number, and driver details

Ask any willing witnesses to give an account of what they saw happen in the accident. Record or document their comments. Get a name, address, email address, and phone number for all witnesses. If you file a commercial vehicle lawsuit, witnesses may support your case.
Obtain and Review a Copy of the Police Report
Responding police officers will file a police report that contains specific details of the accident. It's essential to obtain and review a copy of the report as soon as possible after the wreck. It will list all persons involved in the accident and deem who was at fault. This information is critical for your insurance company and legal case if you pursue one.
The report will also show any tickets given, traffic breaches, and comments or witness statements. This information is vital, as your commercial accident attorney might use it to support your case.
As you review the report, verify that crucial information like the date, time, place, and names of involved parties are correct. Note any discrepancies and discuss them with your attorney.
Call Your Insurance Company
Call your insurance company as soon as possible to tell them about the accident. Most companies set deadlines to file a claim, and you don't want to miss it.
A claims intake specialist will ask a series of questions about the accident, including details about the commercial vehicle, the owner, the license plate number, and the commercial insurance carrier.
They will also ask you to tell them precisely what happened during the accident. Be as accurate and thorough as possible with all your replies to ensure timely and accurate claim processing.
Contact a Commercial Vehicle Accident Attorney
Being involved in an accident with a commercial vehicle is a stressful and complex incident that a seasoned personal injury lawyer can help you navigate. Seek legal advice immediately following your accident to receive expert advice and guidance during this challenging time.
John Bruscato has a wealth of experience helping commercial vehicle accident victims recover compensation for medical expenses, lost wages, pain and suffering, and other damages.
Bruscato Law Firm is happy to evaluate your circumstances and determine if you have a case.
Follow these steps and contact Bruscato Law to protect your legal rights and receive any compensation you deserve. Feel free to contact us at (318) 855-1613 to book a consultation