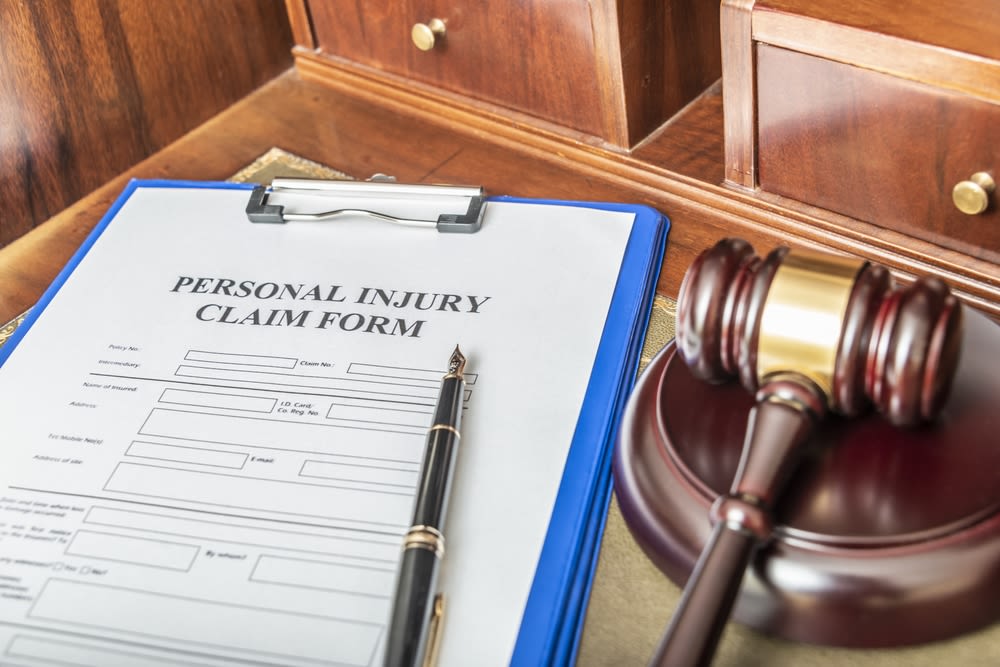 4 Common Personal Injury Claims and How a Lawyer Can Help
---
Personal injuries can drastically change or end someone's life in an instant. What is personal injury, exactly? The Merriam-Webster Legal Dictionary defines personal injury as "an injury to one's body, mind, or emotions."
In general, personal injuries occur when someone suffers physical, emotional, or non-bodily harm due to someone else's misconduct, negligence, or actions (both intentional and unintentional). Examples include broken bones from a slip and fall on a wet, unmarked floor at work or emotional distress from defamation.
In 2020, 38 million people went to the emergency room due to injuries, according to the CDC. In 2021, over 224,000 people died from unintentional injuries, which was also the fourth leading cause of death in the U.S.
Personal injury law allows individuals to file a legal claim against a person, company, or entity that harms them and receive compensation. A Louisiana personal injury lawyer such as Bruscato Law Firm leads clients through the claim process and seeks justice for their harm.
4 of the Most Common Personal Injury Cases
Personal injuries can occur anywhere at any time and disrupt someone's life. Here are four of the most common personal injury cases.
Automobile Accidents
Automobile accidents are the most common type of accident that generates personal injury claims, according to the American Bar Association. Other motor vehicle subtypes include trucking, motorcycle, rideshare, and pedestrian accidents.
More than 46,000 people in the United States lost their lives in a traffic crash in 2022, according to the National Safety Council. This marks a 22% increase in motor vehicle deaths from 2019.
Speeding, alcohol-impaired driving, and seat belt non-use were the three most significant behavioral factors in crash fatalities, accounting for 45% of the total.
According to 2020 National Highway Traffic Safety Administration data, 5,215,071 non-fatal crashes occurred on U.S. roadways. Of these, 2,282,015 people were injured.
Louisiana is a "fault" state. Injured parties have one year from the date of an accident to file a lawsuit. Bruscato Law can establish who is at fault in an accident and determine what type and amount of compensation you're eligible to receive. Typical damages include pain and suffering, medical treatment and physical therapy, and existing medical debt.
Workplace Injuries
Workplace injuries can wreak havoc on many aspects of life. In addition to coping with physical impairments, on-the-job injuries can cause lost wages, limit job prospects, and impact career advancement. They can also affect work and family relationships.
Private industry employers recorded over 2.6 million non-fatal injuries and illnesses in 2021 and 5,190 work-related fatalities, according to the U.S. Bureau of Labor Statistics. Injured workers spent a median average of 12 days away from work in 2020 and suffered over 266,000 sprains, strains, and tears.
Louisiana workers' compensation laws are complex. A seasoned workers' comp lawyer will negotiate with the insurance company, demand justice, and fight for the maximum compensation an employee should receive based on their injuries and losses.
Slip and Fall/Premises Liability
Business owners and homeowners alike must ensure the interior and exterior of their buildings and property are safely maintained for visitors. Failing to follow proper safety standards can cause employees, delivery personnel, and other guests to injure themselves in a slip-and-fall accident.
Falls prompt 8 million hospital emergency room visits yearly and are the leading cause of hospital visits, according to the National Floor Safety Institute. Even worse, falls cause half of all accidental deaths at home and can cause life-threatening hip and head injuries.
Wet or slick floors, ramps, and stairs in public, work, or home environments are common slip-and-fall causes. Poorly maintained surfaces, like broken tiles or pavement, cluttered spaces, and inadequate lighting can also cause falls — especially when owners and operators fail to post proper signs to mark hazardous conditions.
Fault is often unclear in a slip-and-fall accident. That's why an expert Louisiana personal injury attorney can establish responsibility and seek appropriate relief in a premises liability case for an injured client.
Wrongful Death
Losing a loved one is one of the most harrowing experiences people face in life. If a loved one dies because of another party's actions or negligence, coping with this loss creates additional emotional stress.
Under Louisiana law, if a person dies due to the fault of another, certain members of the deceased individual's family can file a lawsuit to recover financial damages. Examples include when someone dies in a workplace or car accident in which the other driver is at fault.
Deciding whether to file a wrongful death claim under this kind of stress is understandably tricky. Surviving family members are grieving and facing medical bills and final expenses for their loved one.
A knowledgeable and compassionate wrongful death attorney evaluates the circumstances surrounding a loved one's passing, provides sound legal counsel, and pursues compensation for their survivors.
How to Know if You Have Found a Good Personal Injury Lawyer
If you or a loved one has sustained a personal injury due to someone else's negligence or misconduct, you might wonder how to file a personal injury claim. You may also wonder if you have found a good personal injury lawyer.
Attorney John Bruscato of Bruscato Law specializes in personal injury law — also known as tort law. An expert lawyer thoroughly understands state and federal personal injury laws and uses their knowledge and experience to assess each client's unique situation and advise if they have grounds to file a personal injury claim.
A good personal injury lawyer also gives sound advice and guides clients through the complex legal claim process with equal parts expertise and empathy. A seasoned lawyer identifies and leverages the elements of a case that will help facilitate a promising outcome.
Furthermore, a compassionate attorney recognizes a client's unique challenges when navigating life with devastating or catastrophic injuries and fiercely advocates for them to receive fair and just compensation under the law.
Bruscato Law is Here to Help
Attorney John Bruscato at Bruscato Law is here to help Louisiana residents evaluate, file, and pursue personal injury claim compensation. If you or a loved one has suffered a personal injury, contact Bruscato Law at 318-855-1613 for a consultation or book an appointment online